PSX-Place
PSX-Place.com is dedicated to bringing you the latest Homebrew, Hacking, Exploits, CFW, Jailbreak & PlayStation Scene News to your fingertips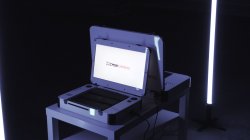 Meet "GameBook" - An Interesting Kickstarter-Campaign to make your own PS4 portable!
Home Consoles
such as the PS4 or Xbox One are made for
playing them "at Home"
right? Well, I bet there are at least a few people who already asked themselves several times:
"Why I can't play Red Dead Redemption 2 while sitting on the train?"
Sadly
the answer was mostly that
"You can't"
before,
due to several technical problems
. Sony had some good ideas with their PlayStation Vita to play
"AAA Game Titles"
on the go but lacked of actually those
"AAA Game Titles"
and due to expensive accessories you needed to get most of the Console. And playing on the Nintendo Switch is not satisfying for everyone. So you had either the
choice to buy
one of those very expensive
"Gaming Notebooks"
for several Thousand Dollars or you read a book while getting to work or to school by train. But the People behind the
"GameBook"
had bothered oneself about this problematic question by starting a
Kickstarter-Campaign
to introduce their newest invention to people like you who asked the same question from time to time. And the coolest thing about this Campaign is,
you won't need to disassemble your PS4
bit by bit to create your own
"Custom PS4 Notebook"
only to get the PS4 Hardware fitting inside a Notebook Case. Just use your regular PS4 and you are already on the go. How convenient is that?​
Continue reading...
Popular Homebrew Releases
Boot PSP/PSX games directly from the Vita Live Area

PC Tool to pack/unpack pkg archives for PSP & PS3

HUD 2.02 (Heads Up Display for PSP) -codestation, darko79