PSX-Place
PSX-Place.com is dedicated to bringing you the latest Homebrew, Hacking, Exploits, CFW, Jailbreak & PlayStation Scene News to your fingertips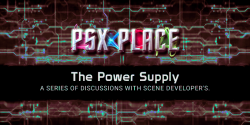 The Power Supply (vol. 05): A chat with (PS Vita Developer) Rinnegatamante
Well it's that time again as we have another talented developer featured in
The Power Supply

(

A developer Interview Series brought to you by PSX-Place

)

. So far you have seen us explore various talents from the PS3 & PS4 in the first four editions (view the complete collection of interview

here

, some great reads and insight from some of the best), so this time around in vol.5 of the series we wanted to expand on another PlayStation Platform and we thought it was time for a PS Vita inclusions. So, with so many great candidates to approach we wanted to explore a bit about homebrew development and this developer is someone whom has developed a few projects on the platform (okay alot of projects

) That's right we have the talented developer known as Rinnganmante who has been a huge contributor to the PS Vita Community. In our chat we posed various development questions / future intentions along with some insight on various projects in this discussion, so like our previous interview's your bound to learn something new.
​
Continue reading...
Popular Homebrew Releases
X-Project (XMB SELF HOST PROJECT) aims to be the AIO customizable tool box for all your payload need

PSP-FTPD (wireless file transferring) -zx-81

Remake of the classic NES game Chip & Dale: Rescue Rangers.