PSX-Place
PSX-Place.com is dedicated to bringing you the latest Homebrew, Hacking, Exploits, CFW, Jailbreak & PlayStation Scene News to your fingertips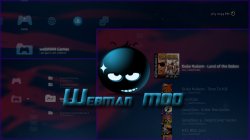 [UPDATE] webMAN MOD 1.47.27 (20200517): Big Announcement - Important milestone's achieved ....
Update (v1.47.27 - 20200517)

since the initial release of webMAN MOD v1.47.27 @aldostools has made huge improvements to the plugin with these latest revisions to v1.47.27.The developer is adding alot of new functionality to the plugin and has some big announcements in the latest changes. See

UPDATED changelog

and also quote from developer Aldostools himself about the latest progress provided to the PS3 Plugin in this latest update
---
(Original Article) Developer @aldostools whom recently updated IRISMAN for 4.86 Support (& more) has also updated the popular plugin

webMAN MOD

to version 1.47.27 with support for 4.86 firmware. That has not been the only changes provided to the webMAN MOD plugin. For instance, If you are transferring files via FTP that information will be displayed in the Temperature Monitoring page (from a networked connected broswser:

your ps3ip/cpursx.ps3

). The plugin has some other additional features and fixes provided in this update marked in the changelog provided below.

​
Continue reading...
Popular Homebrew Releases
Movian (formerly Showtime) is a Homebrew Media Player for the PS3 (& other platforms)

A Official PSP Port of RetroArch (with various Libretro Cores (emulators) )

A multi-featured utility for an 4.55 or 5.05 exploited system.